You can use Google keyboard app in Android 7.1 Nougat to add animated GIFs to your chats and messages. With Google keyboard, you can find and search various categories of GIFs. Using GIFs in a massage or in a chat have several advantages. Animated GIFs are fun and expressive, which you can use to spice up your conversation.
Check out the below step-by-step guide to know how to send GIF directly from Google Keyboard. Though not all messaging apps are supporting now, you can use Google Keyboard's embedded GIFs in Google Allo, Messaging app and Hangouts. However, your device should be running on Android 7.1 Nougat.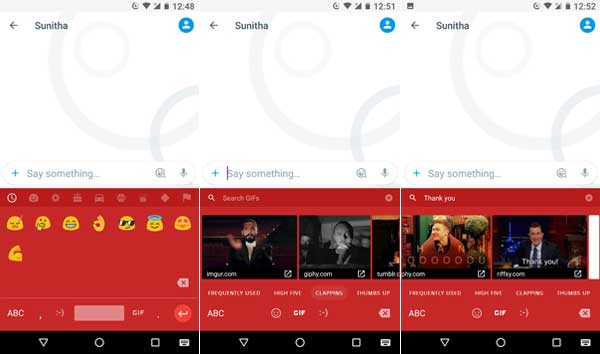 Read on to know how use Google Keyboard to add GIFs to chats and messages. Accessing GIF in Google Keyboard requires few steps. You can find GIFs in various categories, such as high five, thumbs up, thank you, angry, nervous, oops, wow, bored, awkward, etc. or directly search with in the app. With GIFs, you can easily express the emotion, joke or humor.
How to Use Google Keyboard to Send GIFs in Chats and Messages
Note that, currently you can use Google keyboard with Google Allo, Messaging app and Hangouts to send GIFs in messages or chat.
1. When chatting in Allo or writing a message in Messaging app, tap on the Smiley icon. It will launch the emoji screen.
2. You will see a GIF button at the right of the Space bar. Just tap on it.
3. Now, you will see the GIF suggestions screen, GIF categories and GIF search button.
4. Choose a GIF to send or choose a category to find required GIF or search for a specific GIF, and then just tap on the GIF to share it with your friend.
Note that the feature is currently available in Android 7.1. Also, as said above not all messaging apps are now supported. For example, you cannot use Google Keyboard to send GIFs in WhatsApp.